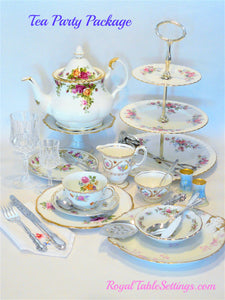 Tea Party Package
Regular price
$14.00
$0.00
Available Up To 104 Guests
Tea sandwiches, crumpets and french macaroons are the perfect treats for your guest to enjoy with our vintage china, teacups and silverware for your tea party. By popular demand, our Crystal Cordial Glasses are included in this package, so don't forget to pick up some Harveys Bristol Cream Sherry. 
Available for 24 - 104 guests and will include the below ratio of accessories: teapots, cake stands, etc. (increasing 1 per table). The Tea Party Package is $14 per person plus a Security Deposit. This rental is available any day of the week. Delivery fees are not included, so please don't forget to add Delivery to your shopping cart. 
Our Tea Party Package provides you with a luxurious list of high quality items. This package includes:
Tea Party Package For 24 Guests - Only $384
24 Vintage Teacups with Matching Saucers
24 Vintage Salad Plates
24 Silver-Plated Salad Forks
27 Silver-Plated Teaspoons (3 extra for sugar bowls)
24 Silver-Plated Knives
24 Silver-Plated Dessert Forks
24 Vintage Bread Plates
24 Crystal Glasses (Water or Wine)
24 Crystal Cordial Glasses
24 Vintage Napkins
     Plus, tea accessories (3 tables of 8 guests):
3 Sets of Vintage Salt & Pepper Shakers
3 Creamer & Sugar Bowls (small size)

3 3-Tier Porcelain Gold Cake Stand
3 Cake Serving Plates
3 Sandwiches / Dessert Tongs
3 Cake Servers

or

Serving Spoons
3 Small Bowls (for condiments / jams) with 3 spoons
3 Small Cake Stand / Compote
3 Vintage Teapots*
3 Vintage

 

Coffee Pots (not pictured)
*Bonus: One of the teapots will be a Special Teapot (pictured) for your head table. If you would like additional Special Teapots, please add this to your cart.  
All items listed above are mismatched with the exception of our Crystal Glasses which are matching. As with all our rentals, we ask that food be wiped/rinsed prior to return. No need to wash, we do that for you. The rental period is for two days. Requests to substitute are not available. Reservations cannot be held until an order with Security Deposit is received. 
You are welcome to add extra items such as Mini Sugar Tongs, Vintage Demitasse Game, and/or a Vintage Vases at the listed rental price. Take a look at our entire collection to add additional items to your cart OR you can rent just the plates and accessories you actually need by ordering à la carte. 
Want some help with designing an elegant table? We provide personal consultation and would be happy to work with you, your event planner, florist and/or local caterer to ensure you have everything you need. Give us a
Call
today, we are here to help make your event unique and memorable. 
---
More from this collection